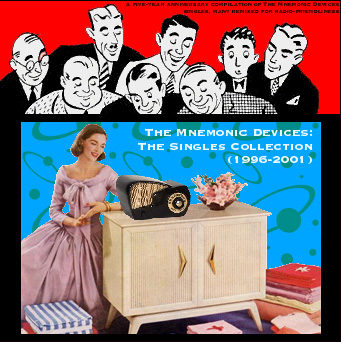 "100% Pure Cheese, packaged in singles..."
A celebration of the five year anniversary of The Mnemonic Devices. A greatest hits album. A radio-friendly remix project. A holiday season moneymaker.
Recording: 1996-2001, remixing Oct 2001, by Rusty Spell at Love and Letters Studios in Hattiesburg, MS. Cover Design: Rusty Spell. Total Running Time: 43.23.
All vocals by Lori Burton, Mindy Espey, Liza Marshall, T.O., Brittany Schafer, Debi Spell, and Rusty Spell. All keyboard and sampling by Rusty Spell. All songs by The Mnemonic Devices, lyrics and music written by Rusty Spell.

$10.00