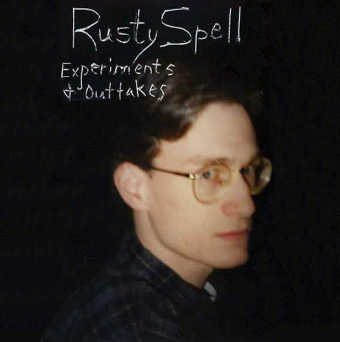 $10.00
A collection of experimental recordings, outtakes from various albums, and (yes) answering machine messages from Rusty Spell and friends. Features things from Synthetic Fibers, Rusty Spell, The Mnemonic Devices, and other pals.
Recording: 1994-18 Apr 1998 by Rusty Spell, Kevin Young, and Julie Scott at Love and Letters Studios, Noby's House Studios, and Julie's House in Pearl and Hattiesburg MS and WS. Cover Art and Design: Rusty Spell. Photography: Debi Spell. Total Running Time: 56:04.
Vocals by Lori Burton, Tommy Burton, Julie Scott, Rusty Spell, and Debi Spell. All guitar, keyboard, harmonica, and accordian by Rusty Spell except: 4. Keyboard by Rusty Spell and Kevin Young. All piano by Julie Scott. All songs by Rusty Spell, lyrics and music by him except: 4. Music by Kevin Young and Rusty Spell; 11. Lyrics and music by Pavement; 12. Lyrics and music by The Magnetic Fields.
Lyrics * Liner Notes * The Johnny Winters Love and Letters Studios Interview
"That weird stuff you find hidden all around the place in life. Collected here to spoil the wonder... or simpifly access to it."