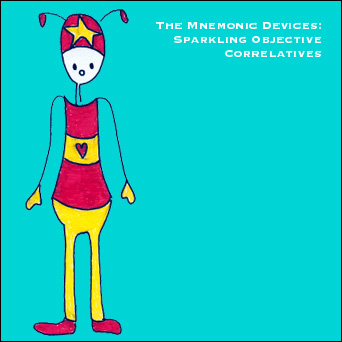 "Our enormous heartbreaking celebration."
Flawless performances by the smartest and prettiest English majors around. You can dance or you can cry, it matters not to us.
Recording: 15 Feb 2002 - 2 Apr 2002 by Rusty Spell at Love and Letters Studios in Hattiesburg, MS. Cover Design: Rusty Spell. Cover Art: Carrie Hoffman for Scruffy Designs. Photography: Barry Beard, Liza Marshall, and Rusty Spell. Total Running Time: 42.35.
All vocals by Kim Chinquee, Pia Ehrhardt, Carrie Hoffman, Paula Leffmann, Kristina Lucenko, Liza Marshall, Rusty Spell, and Amy Wilkinson. All keyboard, sampling, and Theremin by Rusty Spell. All songs by The Mnemonic Devices, lyrics and music written by Rusty Spell.
Lyrics * Liner Notes * Rusty Responds to Sparkling Objective Correlatives

$10.00