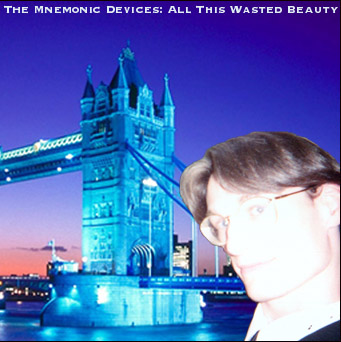 "I will madly love you, through the end of time."
This album tries to jump all over the place while being held tightly in place by obsessions about the end of the world, extreme longing, and loving desperately.
Recording: 24 Jun-3 Aug 1998 and 9 Jul-2 Sep 1999 by Rusty Spell at Love and Letters Studios in Diamondhead and Hattiesburg, MS. Cover Design: Rusty Spell. Photography: Rusty Spell and Friends. Total Running Time: 44.09.
All vocals by Lori Burton, Nyleva Corley, Mindy Espey, T.O., Brittany Schafer, Tricia Sherrer, and Rusty Spell. All keyboard and samples by Rusty Spell. All songs by The Mnemonic Devices, lyrics and music written by Rusty Spell except: 1. Lyrics and music by The Halo Benders; 8. Lyrics and music by Love, Execution Style.
Lyrics * Liner Notes * Rusty's Response to All This Wasted Beauty

$10.00