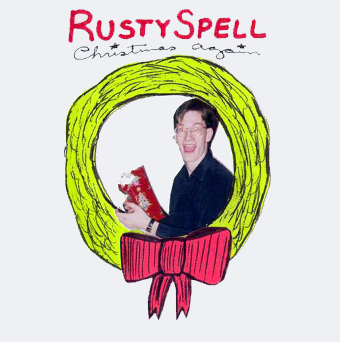 $10.00
Rusty purposely used every instrument he owned (along with every gadget) to create a Frankenstein's monster-type record, a patch job of every kind of Christmas song (traditionals, radio hits, obscurities, originals) which presents his view of Christmas as a wonderful, confused time of year.
Recording: 5 Nov-24 Nov 1998 by Rusty Spell at Love and Letters Studios in Hattiesburg, MS. Cover Art and Design: Rusty Spell. Photography: Debi Spell. Total Running Time: 48:55.
All vocals by Rusty Spell and Debi Spell. All guitar, keyboards, drums, harmonica, accordian, and kazoo by Rusty Spell. All songs by Rusty Spell, lyrics and music by him except: 2,3,8,12,16. Lyrics and music traditional; 4. Lyircs and music by Evans and Livingston; 5. Lyrics and music by Lawton Williams; 6. Lyrics and music by Ross Bagdasarian; 7. Lyrics and music by Javits, Springer, Springer; 11. Lyrics and music by Mendelssohn; 13. Music by Watts and Mason; 14. Lyrics and music by Johnny Marks and Rusty Spell; 15. Lyrics and music by West and Spreen; 17. Music by Grueber.
Lyrics * Liner Notes * The Johnny Winters Christmas Again Interview
"Something to pull out every year, the kids will love it..."