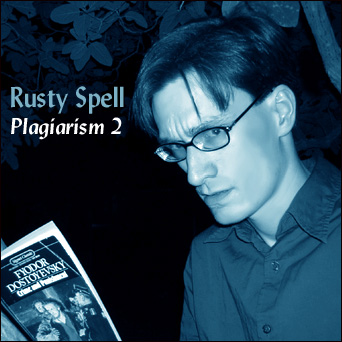 $10.00
Twelve more original songs by Rusty Spell, plagiarizing the musical style of twelve different artists and groups. Now that the first Plagiarism game is over, it's time to play this one, figuring out who Rusty is plagiarizing (including the album cover).

Recording: 27 Apr-29 Jun 2005 by Rusty Spell at Love and Letters Studios in Edinburg TX and Hattiesburg MS. Cover design and photography: Rusty Spell. Total Running Time: 44.03.

Vocals by Rusty Spell with Carrie Hoffman. Electric guitar, acoustic guitar, soprano ukulele, baritone uke, keyboard, toy accordion, harmonica, snare, bongo, tambourine, guiro, castanet, Slovakian coin, and samples by Rusty Spell. Songs written by Rusty Spell except: 4. written by Rusty Spell with adlibs by Rusty Spell and Carrie Hoffman 5. written and adlibbed by Rusty Spell 7,12. adlibbed by Rusty Spell.

Lyrics * Liner Notes * Scorecard * MP3

"12 More Original, Flattering Songs"