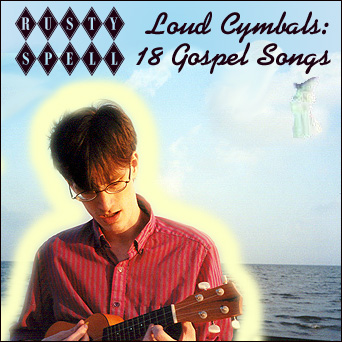 $4.00
Due to cover song content, you only pay for shipping and materials.
Rusty's first gospel album, certain to alienate both gospel and indie rock fans alike.

Recording: 7 Nov-13 Dec by Rusty Spell at Love and Letters Studios in Edinburg, TX. Cover Design: Rusty Spell. Photography: Liza Marshall. Total Running Time: 51.03.

All vocals, electric guitar, acoustic guitar, keyboard, ukulele, harmonica, jaw harp, Dasini bottle, and samples by Rusty Spell. All songs by Rusty Spell, lyrics and music by him except: 1,3: Bill Gather; 2. The Velvet Underground; 4. George Harrison; 5. Johnny Cash; 6,16. Traditional; 7. Hovie Lester; 8. Naida Hearn; 9. Pete Townshend; 10. Phil Spector; 11. Andrew Lloyd Webber; 13. Prince; 15. Gene MacLellan; 17. Neutral Milk Hotel; 18. Built To Spill.

"Psalm 150"