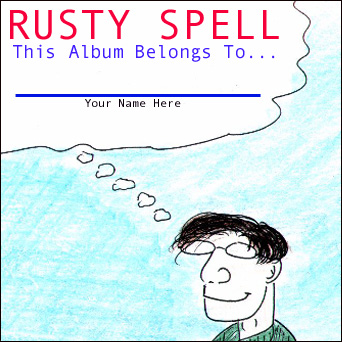 $10.00
After a few years of rumors that Rusty Spell would record a children's album, he finally does so. Straying away from doing cover tunes (specifically of songs from "Mickey and the Beanstalk"), he came up with an album of originals, the kids' favorites focusing on boogers and poots, but also a few tunes for the kiddish adults out there.
Recording: 5 Aug-12 Aug 2000 by Rusty Spell at Love and Letters Studios in Hattiesburg, MS. Cover Art and Design: Rusty Spell. Total Running Time: 36:43.
All vocals, electric guitar, acoustic guitar, keyboard, drums, ukulele, and toy piano by Rusty Spell. All songs by Rusty Spell, lyrics and music written and adlibbed by him.
"Names, sounds, cooties, numbers, greetings, ages, chipmunks, boogers, and sleepy time..."