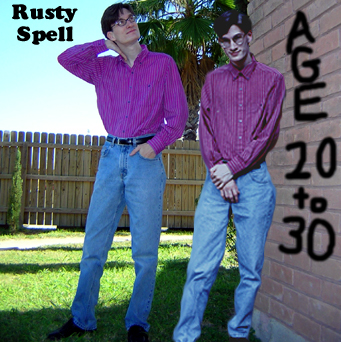 $10.00
In 1995, at age 20, Rusty Spell (while still working with 'nikcuS and a couple of other groups) decided to put out a solo album. In 2005, at age 30, Rusty (while now working with now even more groups, including the more successful solo "spinoff" group The Mnemonic Devices) has put out eighteen solo albums. This compilation collects at least one highlight from each of those albums plus a gratuitous bonus track for a total of 25 songs of Rusty Spell solo magic. As you can see by the two handsome guys on the cover, all this work hasn't aged him a bit.
Recording: 1995-2005. Cover Design: Rusty Spell. Photography: Karon Clark and Rusty Spell. Total Running Time: 79.57.
Everything by Rusty except: 7. Vocals by Liza Marshall, 17,23. Vocals by Liza Marshall and Rusty Spell, 11. Drums by Tommy Burton. Songs by Rusty except: 5. George Harrison, 7,17,23. The Magnetic Fields, 21. Ray Noble, 22. Destiny's Child, 25. Julia Pietrus.
Lyrics * Liner Notes
"Ten years of Rusty Spell solo albums: a retrospective compilation for you.."