The Who's Tommy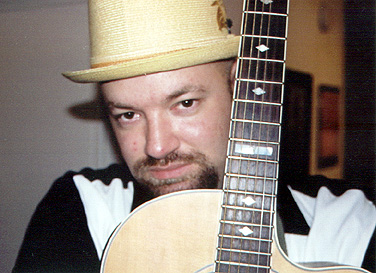 Tommy Burton is the bassist for Lately David as well as one of the writers and vocalists. He has been in Lately David since 1995, as well as being a part of The Naked Donnas and Robert Brenton.
Tommy's first solo recording was in 1996 with an odd keyboard instrumental called "Hunk O' Crap," recorded by Noby Nobriga at Noby's House Studios. This song was eventually released (under the title Tommy Burton's Home Demos) along with songs recorded in 1999 by Rusty Spell at Love and Letters Studios. The new songs were a cover of Mike Nesmith's "Nine Times Blue," Van Morrison's "And It Stoned Me," and the first significant Tommy Burton solo song, "Simple Peace" (which later went on to be recorded by Lately David).
In Jun 2001, Tommy went into Love and Letters Studios again to record nine new original songs. These were done straight through in one day with Tommy singing and playing an acoustic guitar. These new "demos" sat on Rusty's computer for six months until Rusty decided it might be a good idea to add drums and keyboard to the tracks, making them complete songs. These nine songs were released Dec 2001 as Tommy's first solo album, called t*mmy burt*n.
In 2002, Tommy contributed several cover tunes to the Love and Letters Music rarities compilation, arguably the best tracks on the collection. In 2003, he returned to Love and Letters Studios with a new batch of songs. The recording process went much the same way as with the first record, only Tommy knew he was making an album this time, not just demos. Special care was given all around, and Tommy produced what might be considered his first "real" solo album, Viable College Market.
In 2003, Tommy recorded sixteen cover songs by his favorite artists. A definite Tommy Burton solo album, just of other peoples' songs. He called the album So Much for Me.
In 2005, Tommy Burton tracks appeared on the compilation Love and Letters 10.
Tommy continues to play with Lately David and plans on making more solo recordings in the future.
---
Copyright (c) Dec 2001 - Dec 2012 by Tommy Burton and Love and Letters Music