The Mnemonic Devices Story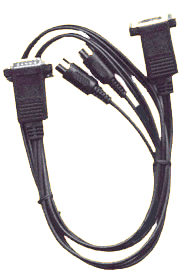 The Mnemonic Devices are a group led by Rusty Spell, who began in the adlib band 'nikcuS in 1990, helping to form 'nikcuS Productions and the many bands that came out of that company. He made his first solo recording in 1995, forming the label Love and Letters Music in the process. The Mnemonic Devices were invented the next year, a pop song group whose only instrument is the keyboard and whose vocalists are Rusty Spell and a revolving set of female Mnemonic Devicettes. Think Phil Spector by way of Stephin Merritt.
The original idea came about in 1994 when Rusty Spell, Noby Nobriga, and Rusty's then-girlfriend Melanie Beasley rediscovered the music of ABBA and made plans to record ABBA-esque songs with a MIDI keyboard, with Melanie singing and Rusty and Noby playing Phil Spector and producing. Before they had the chance to do so, Melanie moved out of town and nothing was ever recorded.
The next year, in 1995, Rusty first heard Stephin Merritt's The Magnetic Fields, a group that appealed to him in part because Merritt was already doing what Rusty wanted to do, since Merritt was himself an emulator of ABBA and Phil Spector. He bought all of Stephin Merritt's music and studied and absorbed it for a year.
In 1996, Rusty and Noby's long-time friend Lori Berkemeyer expressed an interest in recording music with them. Using The Magnetic Fields' Susan Anway recordings as a model, Rusty began writing songs for the keyboard, Noby helping with the recording, while Rusty and Lori shared vocal duties. Oct 1996 saw the release of the album 20th Century Literary Problem, and the band was then known as 100,000 Fireflies, named after The Magnetic Fields' first single.
In 1997, Rusty expanded his Stephin Merritt influence, this time with Merritt's band The 6ths in which he records one vocalist per song. It would sound the same as 100,000 Fireflies (much as The 6ths sound like The Magnetic Fields), but with this twist. He would call the group The Mnemonic Devices. Several vocalists originally agreed to sing; however, only a small number managed to get their songs recorded and this version of the project was put on hold. Instead, Rusty considered the demo versions of just him singing "official enough" and in May of 1997, I Don't Remember was released.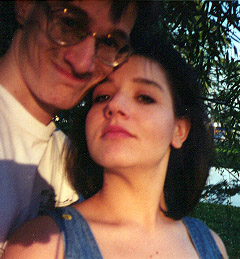 By 1998, things began to gel. First, Rusty's new girlfriend Debi Langford (who later that year became Debi Spell) had agreed to do some recordings. Second, Rusty had bought his own keyboard and gathered up enough recording equipment to open Love and Letters Studios, allowing him the freedom to record any time he pleased. Third, Rusty began selling his albums, something that Lori Berkemeyer didn't want at that time, her vocals or lyrics sold, so he now had a first album which was dismissed and a second album which was still in its demo form. So Rusty re-recorded I Don't Remember with himself and Debi singing (using the already-recorded versions from the contributing vocalists on a Rusty Spell outtake album), and re-recorded 20th Century Literary Problem with him and Debi as well, this time dropping the 100,000 Fireflies name and calling everything so far and to come The Mnemonic Devices.
Debi and Rusty also recorded two songs for a Stephin Merritt tribute album titled Verfrumdungseffekt, this contribution bringing The Mnemonic Devices a tiny bit of fame and the first appearance of a song on the radio.
By Oct 1998, with everything now cleaned-up and tidy (and with The Mnemonic Devices experiencing the slightest bit of fame with tracks they contributed to the Stephin Merritt tribute album), Rusty was ready to record a new album for The Mnemonic Devices with this new arrangement in mind. He recorded The Wedding Album. In Dec 1998, Rusty got a new computer which allowed for better recordings, so he and Debi re-recorded (again) the first three albums.
But Debi left in 1999. The first thing Rusty did was re-name The Wedding Album. He called it Midi Skirt. The second thing he did was record The 5 Remaining Love Songs EP in Apr 1999. It was different from previous releases in many ways: it was the first EP, it was the first with only Rusty singing, and the only keyboard voices used were five different pianos. This departure allowed The Mnemonic Devices some breathing room while still remaining essentially what they'd always been.
In Jul 1999, Rusty was living in Diamondhead Mississippi for the summer (away from his Hattiesburg Mississippi home) and recruited Mindy Espey, and Brittany Schafer (who were also living there) to record with him. The idea of random female vocalists intrigued him, especially when he knew he might not see them again, and by this point Rusty preferred this method of obtaining singers over trying to maintain permanence. Brittany coined the term "The Mnemonic Devicettes" and having that name made him want to do it even more. Upon returning to Hattiesburg, he recruited Lori Burton (who had recorded before, and who was considered for the new permanent member before the Devicette idea) along with Nyleva Corley and Tricia Sherrer who were graduate school friends from the English department. With these new six girls (and himself singing too), Rusty recorded All This Wasted Beauty Sep 1999 and ended up having a recording very similar to his original intent for The Mnemonic Devices name.
Almost a year later, in Sep 2000, Rusty began working on the next album, intending to take his time with it. He decided to do things a little different this time, using all new keyboard voices (specifically, Sound Fonts) instead of the General MIDI instruments he had been using all along. He also intended to use different girls again, with the emphasis on his new girlfriend Liza Marshall. Several grad school friends were scheduled to sing, but (again) when it came time for the vocals (for several reasons), Rusty ended up having only Liza sing, so that this album had a similar feel to the first three albums with one female vocalist. The name of the album they made together was called Zooming In On Fractals which was released in Feb of 2001 (the year 2000 being the first year without a TMD release since their beginnings in 1996).
Also released in 2001, to celebrate the five year anniversary of The Mnemonic Devices, was The Singles Collection (1996-2001), a best of album featuring remixes of over half the songs to make them more "radio friendly."
2002 saw a combination of the last two albums, with similar sounds (though not the same sounds), but a variety of singers. Liza returned for the album, and the rest of the singers consisted of people from the Center for Writers during Rusty's last semester of his PhD studies at The University of Southern Mississippi. They were Kim Chinquee, Pia Ehrhardt, Carrie Hoffman (who provided the cover art), Paula Leffmann, and Amy Wilkinson. This album of English majors was titled Sparkling Objective Correlatives.
Also in 2002, TMD contributed three tracks to the Love and Letters rarities compilation Stick It Somewhere: "Strange Powers" and "Plant White Roses" from the Merritt compilation, and "When You Were My Baby." They also contributed to a Radiant Radish Christmas compilation called Somebody Spiked the Egg Nog.
In 2003, Rusty began working on a new project that was to be called Topanga. In 2004, however, Rusty decided to split Topanga in two and release EPs instead. The first EP was the Love Chewed Off Its Leg EP featuring new girlfriend Carrie Hoffman.
The second EP was originally going to feature several Austin friends, however it ended up with only Liza Marshall singing, recording vocals long distance, a first for The Mnemonic Devices. The Boys Can Be Pretty Too EP was finally released in 2005, many of the songs being two years old. Also in 2005, many songs from The Mnemonic Devices appeared on the 10 year anniversary collection, Love and Letters 10.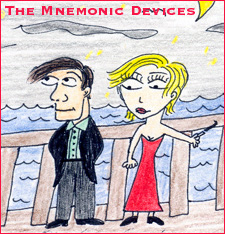 There is still a prevalent set of ideas powering The Mnemonic Devices which separate the group from Rusty Spell solo recordings. The most important is that Rusty creates all the music, and creates it on keyboard only (with occasional samples). The second is that the albums should not exceed 45 minutes and the songs should remain (essentially) pop songs (radio-ready and separated from each other with two second spacers). Any EPs recorded should be five songs long. Rusty is the only male vocalist; female vocalists will most likely continue to come and go as is convenient. The font for album covers will always be Copperplate Gothic Thirty-Three. Finally, the subject matter of the songs will most likely deal with relationships, and the albums themselves will tend to have an overall theme, even if not an explicit one.
---
Copyright (c) Dec 1998 - Dec 2005 by The Mnemonic Devices and Love and Letters Music