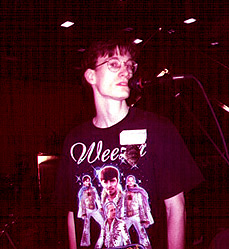 About Rusty Spell
Rusty Spell went solo from his band 'nikcuS (not quitting the band) in order to do the songs and projects he wanted to do by himself. This is why most musicians go solo, of course, but Rusty was aware of all sorts of implications in this: big ego, self-indulgence, how hard it actually is without other people, how it feels like a break even if it isn't. All of these things were included in Rusty's first album, 1995's Mailbox, which Rusty once described as "a parody of a solo album."
Mailbox, in fact, was basically the Rusty element of 'nikcuS blown up one million times, paired with a new softness and seriousness. The theme of the album seemed to be a combination of attention to the self, loneliness, and faint connections to friends, as symbolized by the mailbox, and almost every song went toward this theme.
His next album in 1996 was Covers By Casio, a project Rusty recorded in two hours in an attempt to "wash down" the grandness of his recently formed group The Mnemonic Devices. This album, as given away by the title, is simply Rusty covering some of his favorite songs with a Casio keyboard. But this album did something else, though not intentionally: it revealed Rusty Spell the solo artist as a perfect outlet for Rusty to do any recording at all, no matter how messy or stupid.
This no-rules approach is evidenced in 1998's Experiments and Outtakes which is actually a little more than a Rusty Spell album (sometimes it is known as Rusty Spell and friends). Work from many Rusty Spell projects pop up, such as The Mnemonic Devices and Synthetic Fibers. And the fact that the "friends" appear on nine of the sixteen tracks show that Rusty Spell is growing by the second, acting as arranger and producer of more people than just himself. He also stretches what is normally considered music, including things like answering machine messages.
Christmas Again from late 1998, Rusty's Christmas album, is surprisingly closer to Mailbox in that it comes back to the "real" album format (even if it is a theme album), not an odds and sods or one instrument indulgence. Rusty purposely uses every instrument he owns on this album to show the current Rusty Spell musical landscape on something that just happens to be a Christmas album.
Blowing everything away he'd done before, and surprising himself in the process, Rusty accidentally made indie rock credibility in 1999, creating twelve songs in six hours. In spite of the short time it took, this album might be the one to put Rusty on the map as far as indie music goes, as evidenced by the title. The long-awaited "followup to Mailbox" wasn't what anyone expected, but it is a refreshing album not only in the realm of Rusty Spell records, but of records in general.
A year later, in 2000, Rusty made Alterna-Chick, which at first glance isn't too far removed from indie rock credibility, suggesting that Rusty had finally moved away from the 'nikcuS sound of some of his previous albums and settled into this new sort of music. Regardless, this album isn't just a repeat. Rusty had been thinking for years about a way to make a "noise/sound effects" album which was actually listenable. This isn't quite what he had in mind, but it's a step in the right direction, with almost every track full of noises (cars running, machines humming, water pouring) and experimental recording techniques (notably pitch bends and time compression) while the music makes it all go down easy. Some of Rusty's most interesting work, he seems almost nowhere to be found during the entire recording even while singing away.
In the middle of the same year, Rusty toyed around with the idea of playing his Mnemonic Devices songs live and began working them out on the acoustic guitar. He eventually recorded every song with just him and the guitar. The idea of playing these originally-electronic songs as folk was funny to Rusty and he also wanted to release another "toss-off record" to break this serious and good album streak he was stuck in, so he picked his favorite renditions and put out Rusty Spell Strums The Mnemonic Devices. Please don't think it's a Mnemonic Devices album; that would ruin everything. Think of it instead of Rusty Spell recording a tribute to The Mnemonic Devices, which happens to be his own band.
Three months later, Rusty spent one night making a children's album, something he'd wanted to do for a few years. He recorded a night's worth of originals, then went back a week later to record a few new more. He named the album This Album Belongs To... (with a fill-in-the-blank for your name), and it's an album full of things he thought kids would like: sing-alongs, poots, boogers, noises, things like that. It sounds like a kid recorded it instead of an adult recording for kids.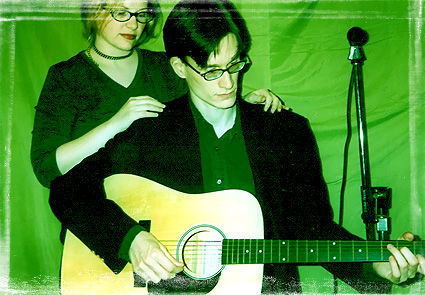 Rusty worked on the next release for a year, 2001, on and off while doing other things. It ended up being called The Magnetic Fields' 69 Love Songs Vol. 1, and it is just that: a re-recording of every song of of that album by The Magnetic Fields. Rusty knew he couldn't sell this album since he didn't write any of the songs, so he thought about making it an "unofficial" album, but instead he decided to group it with the rest of his catalog as a non-sellable cover album, much like Covers By Casio. The only difference is that this one has music to be sort of proud of. Rusty took his time with Vol. 2, taking another year to finish and releasing it in 2002, and then decided to finish off Vol. 3 in a few months so he could get these recordings out of the way and move on to other things.
At this point, Rusty had been putting out little "unofficial" albums, things that are barely albums at all, and not including them in the official Love and Letters Music/'nikcuS Productions catalog. The first of these is called Neutral Milk Hotel Lobby in which Rusty badly sung almost every Neutral Milk Hotel song from their two albums playing loungy keyboard music in the background. It's entertaining for him and some, but it's even more tossed-off than much of Rusty's stuff. The other discs are put out mainly for archival purposes. One of them is The WUSM Interview, which is a recording of the interview broadcast on WUSM which was done by Clinton Kirby. The others are live albums which are mostly recorded with cam-corders.
Rusty contributed the majority of songs to the first compilation by Love and Letters Music of previously unreleased material, by himself and with featured guests including Lately David (Scott Agner, Tommy Burton, and Danny McGreger), Tommy Burton, Amal Dorai, Liz Goodridge, Kristina Lucenko, Liza Marshall, and Lee Rozelle. The songs dated from 1998 to 2002, when the two disc set was released.
One month later, the long-promised album called Plagiarism was released, the idea behind it kept secret for a long time, and when finally released Rusty said about the album, "The album is a game. It's a puzzle to be figured out," but refused to say any more. He eventually told everyone that each song is an original song in the style of an existing artist, and that the game is to figure out who he is "doing." He even began keeping a scorecard. In spite of this extremely high concept, this is actually the most "regular" Rusty Spell release since Alterna-Chick.
Immediately afterwards Rusty began work on a gospel record which he had been considering for years, not knowing how to do one. He released it two months after Plagiarism and called it Loud Cymbals: 18 Gospel Songs. He also contributed several songs to the Radiant Radish Christmas compilation, Somebody Spiked the Egg Nog.
Early 2003, mostly from listening to Will Oldham records, Rusty conceived of an album called I Can Write These Songs, Now My Folks Are Dead which he wrote one song for that he considered a failure, but one night in March Rusty had a fit of inspiration not seen since indie rock credibility and adlibbed and recorded vocals and acoustic guitar for sixteen songs in under two hours. The next day, he put overdubs on them (which took a little longer) and used fifteen of the songs for the album, arranging the songs in the order he recorded them. Certainly the spookiest Rusty Spell album yet, being closest compared to indie rock credibility.
Mid-2003, Rusty decided to begin making best-of compilations of his live shows, and he put out Live Shows Vol. 1 (Dec 2000-Nov 2001): He Said It Would Never Happen, the first in what promises to be a regular series.
Later that year, Rusty put out a collection of happy, fun songs: his shortest album to date at just under 30 minutes, he called it Charles Grodin, the name that he intended for his second solo album that he never recorded.
After the longest wait so far between albums (almost two years), Rusty put out a sequel to his Plagiarism called Plagiarism 2. Like the first one, it was marketed as a game, but it works mostly as a collection of original Rusty Spell songs.
Later that year, Live Shows Vol. 2 (Mar 2002-Apr 2004): Why I Never Do This, Why I Sometimes Do came out, following the same pattern as the first.
In December of 2005, ten years after making his first solo album, Rusty released the first retrospective collection, Age 20 to 30. He also appeared on the Love and Letters 10 year compilation, Love and Letters 10.
---
Copyright (c) Dec 1998 - Dec 2005 by Rusty Spell and Love and Letters Music